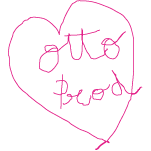 Occur
ARTICLE BIENTÔT DISPONIBLE
carte blanche à Otto-Prod
*
Paul Destieu, Quentin Destieu et Sylvain Huguet, Yann Leguay, Luce Moreau, son:DA, Guillaume Stagnaro
*
10.04 – 30.05.15
opening / vernissage 10.04.15, 6pm /18h
FR.
Otto-Prod présente l'exposition collective occur, réponse à la carte blanche proposée par la galerie 22,48 m². À la fois artistes et producteurs, les membres du collectif Otto-Prod mêlent leurs recherches artistiques au corpus d'œuvres que l'association produit, diffuse et soutient. Il réunit ici les auteurs au croisement de leurs recherches pour partager une zone d'influence et en révéler les conjonctures.
Le titre occur est un appel au présent, à l'apparition d'un phénomène ; l'assemblage des sept œuvres exposées sous ce nom met en avant des occurrences de matière, d'espace et de gestes. Elles ont en commun la transmutation d'un état vers un autre, d'un medium vers un autre.
Par la transformation radicale de sa forme, La Refonte ne conservant de l'objet initial que la matière première et la symbolique, opère une subversion technologique. Le vitrail réalisé à partir du fichier Object Nr_18 s'inscrit dans cette même relation entre écritures numériques et savoir-faire ancestraux ; rallonges électriques, prises et chargeurs envahissent l'espace pour accéder au statut d'icône.
Certaines pièces explorent un entre-deux, dont elles maîtrisent ou subissent le milieu : Méditation sur la Méthode développe ainsi une forme de résistance du sujet face aux procédés de compression vidéo, lorsque Pulsar enregistre la lutte continue d'une caméra aux prises avec la lumière. De cette expérience, le capteur de l'outil garde la marque permanente, sorte de persistance rétinienne imposée par la suite aux rivages de Holes.
La corruption discrète du paysage se retrouve dans la série Hardware, pierres gravées à la main d'une annotation informatique ; elles sont prélevées, modifiées, puis pour la plupart réintégrées à leur site d'origine.
Enfin, dans un espace mathématique simulé, l'artiste expérimente la création d'un univers à partir d'un algorithme simple (Trois couleurs, sans fin). On peut observer la lente transformation de ces pixels en expansion dans le temps de l'exposition, et dans l'espace fini du support.
occur donne à voir la matérialisation d'éléments aussi impalpables que la lumière, l'électricité, le numérique, qui comme autant de précipités chimiques se solidifient au contact les uns des autres.
ENG.
Otto-Prod presents the group show occur, in response to the carte blanche proposed by the gallery 22,48 m². Both artists and producers, the members of the Otto-Prod's collective combine their artistic researches with their works they produce, diffuse and support. It gathers here the authors at the crossroads of their researches to share a zone of influence and reveal the circumstances.
The title occur is the emergence of a phenomenon ; the assembly of the seven works exhibited under this name highlights diverse occurrences of materials, spaces and gestures. They have in common the transmutation from a state to another, from a medium to another.
Through the radical transformation of its shape, La Refonte – which only retains the raw material and the symbolism of the initial objet – operates a technological subvertion. Stained glass made from the Object Nr_18 file is in the same relationship between digital records and ancestral knowledge ; extension cords, plugs and chargers invade the space to access the status of icon. Some pieces explore an in-between : Méditation sur la Méthode develops a form of resistance to the subject to deal with video compression methods, Pulsar records the continued struggle between a camera and the light. The tool sensor keeps the permanent mark of this experience, kind of retinal persistence subsequently imposed on the shores of Holes.
Quiet corruption of the landscape is reflected in the Hardware series, handmade engraved stones hand of a IT annotation ; they are moved, modified, and then mostly reinstated to their original site.
Finally, in a simulated mathematical space, the artist experiments the creation of a universe from a simple algorithm (Trois couleurs, sans fin). We can observe the slow transformation of these expanding pixels in the time of exposure, and in the limited area of the support.
occur reveals the materialization of elements as intangible as light, electricity, digital, which solidify in contact with each other, like so many chemical precipitates.